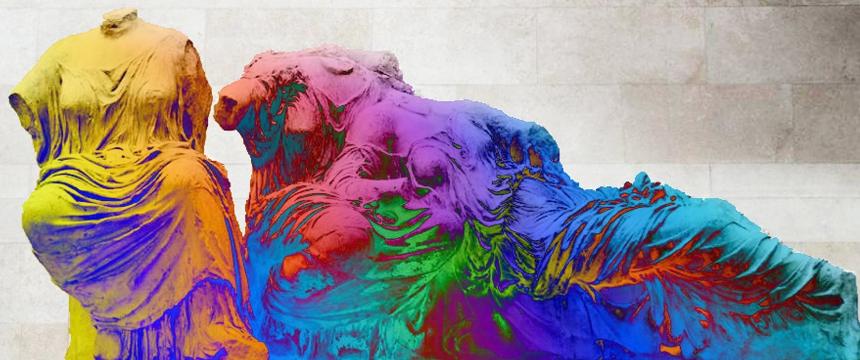 Recent articles & book chapters
"Tracking Trajectories: Projecting Polychromy onto a Roman Relief from a Scottish Castle"
Louisa Campbell
Heritage

2023,

6(4), 3722-3744
Published online - 14/04/2023.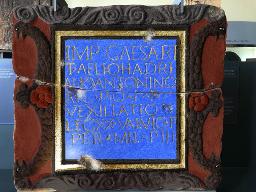 "Making and working Egyptian blue – a review of the archaeological evidence"
Ilia Kovalev, Alexandra S. Rodler, Cecilie Brøns and Thilo Rehren
Journal of Archaeological Science, 2023, 153, 105772.
Published online - 08/04/2023.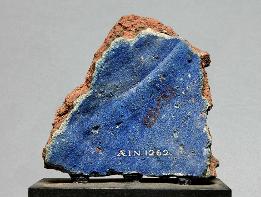 "New Evidence about the Polychromy of Early Imperial Cycle from the

Augusteum

of

Rusellae

(Tuscany)"
Paolo Liverani, Susanna Bracci, Roberta Iannaccone, Sara Lenzi and Donata Magrini
Heritage

2023,

6
(4), 3385-3401.
Published online - 23/03/2023.
"Color and Light: A Hellenistic Terracotta Figurine of a Maenad from Myrina"
Brigitte Bourgeois, Giovanni Verri and Violaine Jeammet
Heritage

2023,

6
(3), 3005-3024.
Published - 12/03/2023.
"Polychromy in Ancient Greek Sculpture: New Scientific Research on an Attic Funerary Stele at the Metropolitan Museum of Art"
Elena Basso, Federico Carò and Dorothy H. Abramitis
Appl. Sci.

2023,

13
(5), 3102.
Published online - 28/02/2023.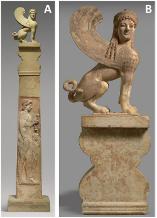 "The Gosford Wellhead: An Ancient Roman Masterpiece"
Seán Hemingway, with a contribution by Dorothy H. Abramitis, Federico Carò, and Adriana Rizzo
The Metropolitan Museum of Art Bulletin, v.80, no. 3 (Winter, 2023)
Read online or download the PDF, here:
Published - 08/02/23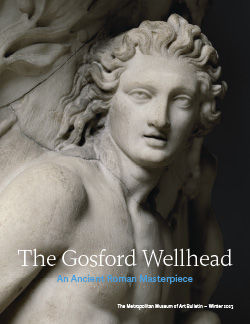 "The colours of Segesta. Searching for the traces of the lost pigments"
Veronica Ciaramitaro, Francesco Armetta, Monica de Cesare and Maria Luisa Saladino
Journal of Cultural Heritage,
59 (2023): 30-37.
Published online - 20/11/2022.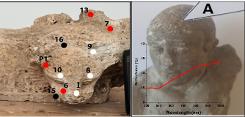 "A Late Archaic/Early Classical Greek Relief with Two Hoplites (Ny Carlsberg Glyptotek IN 2787)"
Jan Stubbe Østergaard and Adam Schwartz
Jahrbuch des Deutschen Archäologischen Instituts, 2022, 137, S. 1–37.
To read a sample of the article (pp. 1 - 10), see

:
Published - 27/10/2022.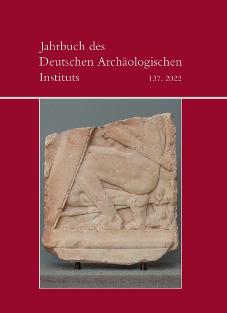 "Multi-technique analysis of pigments on sandstone sculptures: Renaissance re-painting of a Roman relief"
Louisa Campbell and Margaret Smith
Herit Sci

10
, 156 (2022).
Published - 05/10/2022.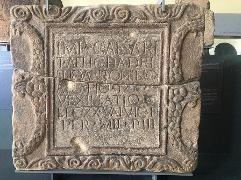 "Colour in Late Antique Art: An Aesthetic Exploration of Polychromy"
Bente Kiilerich
Published open-access on Academia.edu
Published - 13/04/2023.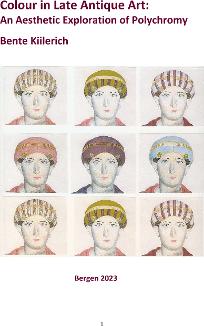 "Au Plaisir Des Dieux: Expériences Du Sensible Dans Les Rituels En Grèce Ancienne"
Adeline Grand-Clément
Published by Anacharsis Publishing
In ancient Greece the gods were omnipresent, from the clouds to the smallest sprig of rosemary. Rituals flourished. Soliciting deities was both frequent and extraordinary – and always possibly dangerous.
We know the procedures mobilized in these fragile moments of the "kitchen of sacrifice"; We are less informed about the range of senses that had to be awakened at the crucial moment of the encounter with the gods.
Adeline Grand-Clément embarks here on an investigation as close as possible to the feelings of the participants, meticulously seeking to grasp how darkness or light, colours, smells, touch, sounds or landscapes shaped specific sensory spaces, considered effective because they satisfy the pleasure of the gods.
Published - 03/03/2023.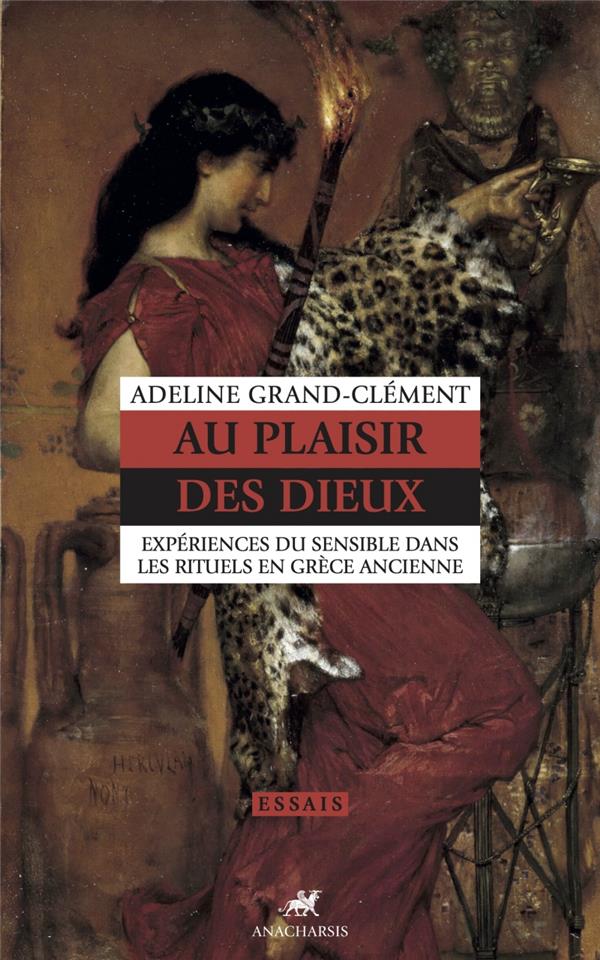 "The Colours of medieval English Alabaster Panels. Polychromy, production and perception" (English Edition)
Markus
Schlicht,
Aurélie
Mounier,
Maud
Mulliez, in collaboration with
Pascal
Mora and Romain Pacanowski.
P
ublished by
Ausonius editions.
The book
details the work of a multidisciplinary team on the analysis and reconstruction of the polychromy of several English alabaster panels preserved in the Bordeaux region, and

is

available online.
Download a free PDF copy of the book here.
Published - 31/01/2023.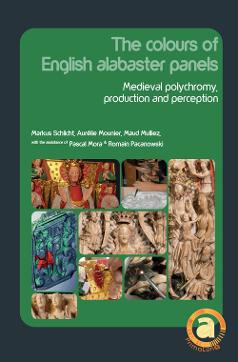 "Seeing Color in Classical Art: Theory, Practice, and Reception, from Antiquity to the Present"
Jennifer M. S. Stager
Published by Cambridge University Press
The remains of ancient Mediterranean art and architecture that have survived over the centuries present the modern viewer with images of white, the color of the stone often used for sculpture. Antiquarian debates and recent scholarship, however, have challenged this aspect of ancient sculpture. There is now a consensus that sculpture produced in the ancient Mediterranean world, as well as art objects in other media, were, in fact, polychromatic. Color has consequently become one of the most important issues in the study of classical art. Jennifer Stager's landmark book makes a vital contribution to this discussion. Analyzing the dyes, pigments, stones, earth, and metals found in ancient art works, along with the language that writers in antiquity used to describe color, she examines the traces of color in a variety of media. Stager also discusses the significance of a reception history that has emphasized whiteness, revealing how ancient artistic practice and ancient philosophies of color significantly influenced one another.
Published - 25/11/2022.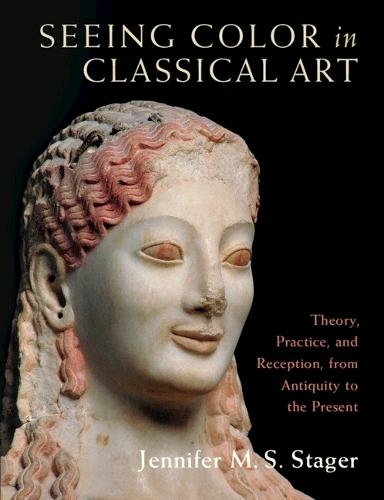 © Copyright J. Dyer @ British Museum