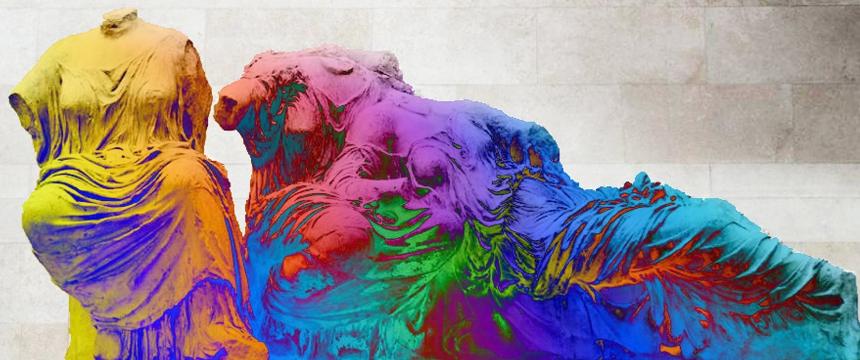 Next Polychromy Round Table coming in 2022!
The 11th International Round Table on Polychromy in Ancient Sculpture and Architecture will be held in Rome during the second week of November, 2022 and will be hosted jointly by the Musei Capitolini and the Museo Nazionale Romano. The theme will be 'The Materiality of Polychromy'.
Please download the first circular here for more information
Online Symposium at the Faculty of Classics, Oxford University
Thursday 16th and Friday 17th December, 2021.
"The Tetrarchs, Constantine, and Imperial Art"
Organised by Bert Smith & Tuna Şare Aǧtürk
See the workshop programme

here.
For further information and to register contact:

Tuna Şare Aǧtürk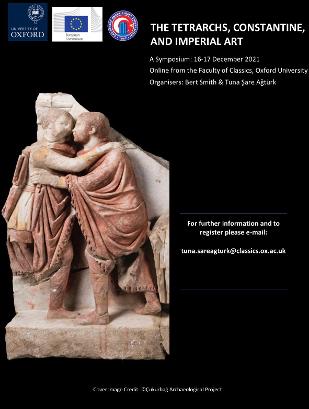 Boshell Foundation Virtual Lecture: Color in Ancient Mediterranean Sculpture at The Art Institute of Chicago
Thursday 28th October, 2021 at 17:00–18:00 CDT (23:00-00:00 BST).
Join art historian and professor Mark Abbe for a conversation on polychromy in ancient sculptures. Abbe is joined by curator Katharine Raff and conservation scientist Giovanni Verri from the Art Institute of Chicago.
For more information and free registration go to: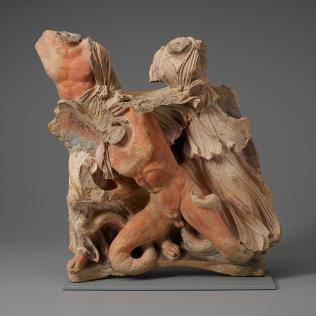 Workshop on Roman sculpture at the University of Liège, Musée du Grand Curtius
Monday 25th and Tuesday 26th October, 2021.
"Polychroma - The Meaning of Colours of Roman Statues"
This workshop offers the occasion to discuss preliminary results and ongoing research on some of the collections from Musée du Bardo, Musée Départemental de l'Arles Antique, Musée Saint Raymond de Toulouse, Museo Civico di Milano, Musées Royaux d'Art&Histoire, Bruxelles, Musée Royal de Mariemont, and to set out some guidelines for the future research.
Organised by Elisabetta Neri and David Strivay.
See the workshop programme here.
To participate (in person or virtually) register by emailing: eneri@ulige.be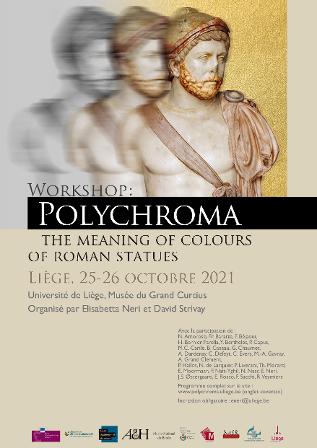 Workshop on Greco-Roman Terracottas at the University of Toulouse Jean Jaurès, Maison de la Recherche
Thursday 30th September and Friday 1st October, 2021.
"Étudier, conserver et restaurer les terres cuites gréco-romaines aujourd'hui. - État des lieux des méthodes d'investigation et perspectives."
See the workshop programme here.
To follow the workshop on Zoom, contact organizer, Estelle Galbois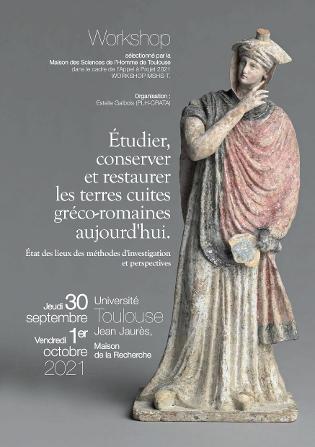 Workshop at Metzlersaal Städelmuseum and Liebieghaus Skulpturensammlung, Frankfurt am Main
Friday 24th September, 2021.
"Colour matters. Polychromy of Ancient Greek and Roman Sculpture as Research Subject in Archaeology and Classics."
See the workshop programme here.
Jan Stubbe Østergaard has kindly put together some notes on his impressions of the meeting. Read them here.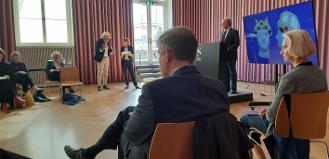 Paolo Liverani (speaking), in the background; Vinzenz Brinkmann and Clarissa Blume-Jung (both standing) and Ulrike Koch-Brinkmann (sitting) . In the foreground; Oliver Primavesi (left) and Christiane Vorster (right).
Image ©
Jan Stubbe Østergaard