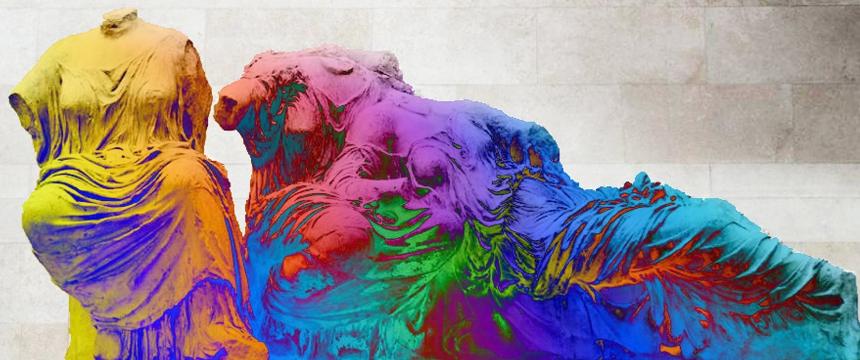 The International Round Table on Polychromy in Ancient Sculpture and Architecture or the "Polychromy Round Table" is a series of meetings dedicated to the study of the polychromy of ancient sculpture and architecture.
The subject of colour in the ancient world has long fascinated scholars. Within the realm of Classical art, historians stretching back to the late eighteenth century have periodically addressed the topic that sculpture and architectural elements from the Greco-Roman world, and beyond, were originally highly coloured.
Recently, interest in this field has once more been reinvigorated by the advent of new scientific techniques and methodologies, as well as by a community of diverse and interdisciplinary scholars, dedicated to the study of the polychromy of ancient sculpture and architecture.
Since 2009, this growing network of scholars has met on a series of occasions(see Past Meetings), first held annually and, since 2016, biennially.
The meetings have a strong tradition of providing an excellent opportunity for experts from a wide range of fields (archaeologists, architectural historians, scientists, conservators, museum and digital humanities professionals) to discuss new research in a stimulating multidisciplinary setting. Papers from a variety of perspectives are encouraged and cover many aspects of polychromy in ancient sculpture and architecture.
The first meeting of the Polychromy Round Table, held at the Ny Carlsberg Glyptotek in Copenhagen in 2009, was made up of only 11 participants. By comparison, 2020's virtual meeting had more than 300 registrants.
Image ©

Ny Carlsberg Glyptotek
This website collects the experience of these productive and rich encounters at the Polychromy Round Table, in the form of past programmes, abstracts and published proceedings. It also aims to provide a focal point for this network and research community to share news on its investigations.
In the inclusive spirit of the Polychromy Round Table and its network, this site also aims to reach out to other researchers who may be considering the subject of ancient polychromy from the Greco-Roman world or relevant comparative studies from their own interdisciplinary viewpoints, geographical areas and time periods.
Latest News
It is with great sadness that we announce the passing on April 26 of our beloved friend and colleague Susanna Bracci who served as Senior Researcher at the National research Council in Florence for over thirty years.
Susanna was a prominent Conservation Scientist, a highly respected figure in the Heritage Science world at national and International level.
She was an active member of the Polychromy Round Table family, sharing with many of us her research in the field of ancient polychromy, focusing on non-invasive approaches for the study of painted surfaces.
Her close working relationships with scientists, curators, conservators, scholars and students, and her incredible artistic sensitivity, made her an excellent colleague. Everyone who worked with Susanna, including the many students, would agree that Susanna's remarkable expertise was equaled by her pleasant and positive personality, contagious to everyone she met.
In recent years, in addition to her professional and human skills, we have also admired the strong courage and determination in facing life challenges due to her personal battle with illness.
We will truly miss Susanna, her formidable intelligence and tireless dedication.
Added: 13/05/2021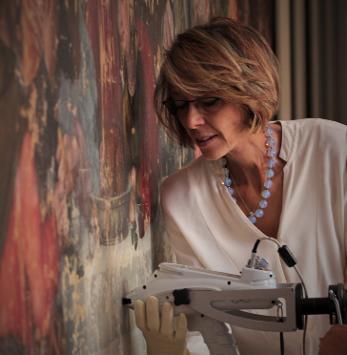 Susanna during an analytical campaign on Last Supper by Plautilla Nelli, 2016. Image courtesy of Linda Falcone, AWA Advancing Women Artists.
For further information or to sign up for the mailing list, please email:
Or fill in your details below: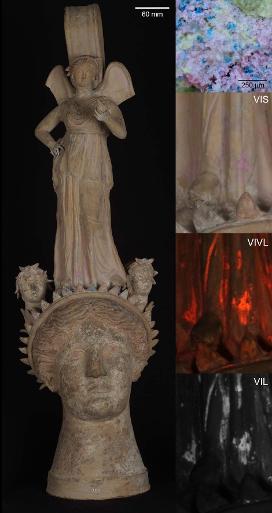 Image © Trustees of the British Mus

eum.
Website Team:
Mark B. Abbe - Associate Professor of Ancient Art, University of Georgia, Athens, Georgia.
Brigitte Bourgeois - Emeritus curator, Centre de recherche et de restauration des musées de France (C2RMF), Paris.
Hariclia Brecoulaki - Senior researcher, Institute of Historical Research, The National Hellenic Research Foundation (EIE), Athens.
Paolo Liverani - Professor for Ancient Topography, Dipartimento SAGAS (Storia, Archeologia, Geografia, Arte e Spettacolo), Università di Firenze, Florence.
Jan Stubbe Østergaard - Emeritus Research Curator, Ny Carlsberg Glyptotek, Copenhagen.
Giovanni Verri - Conservation scientist, Art Institute of Chicago, Chicago, Illinois.
Stephan Zink - Researcher, Department of Building Archaeology, German Archaeological Institute, Berlin.