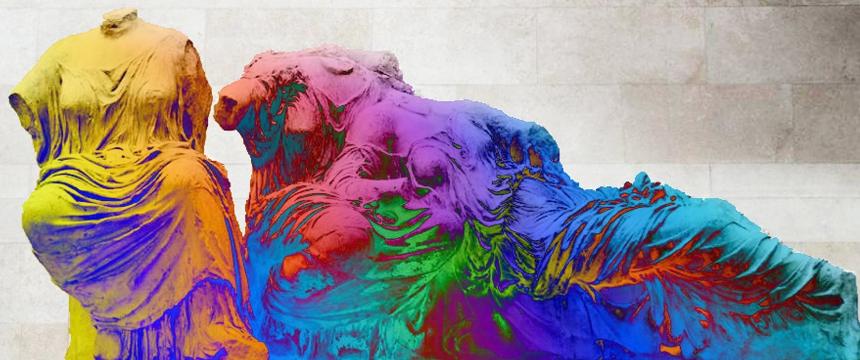 The International Round Table on Polychromy in Ancient Sculpture and Architecture or the "Polychromy Round Table" is a series of meetings dedicated to the study of the polychromy of ancient sculpture and architecture.
The subject of colour in the ancient world has long fascinated scholars. Within the realm of Classical art, historians stretching back to the late eighteenth century have periodically addressed the topic that sculpture and architectural elements from the Greco-Roman world, and beyond, were originally highly coloured.
Recently, interest in this field has once more been reinvigorated by the advent of new scientific techniques and methodologies, as well as by a community of diverse and interdisciplinary scholars, dedicated to the study of the polychromy of ancient sculpture and architecture.
Since 2009, this growing network of scholars has met on a series of occasions(see Past Meetings), first held annually and, since 2016, biennially.
The meetings have a strong tradition of providing an excellent opportunity for experts from a wide range of fields (archaeologists, architectural historians, scientists, conservators, museum and digital humanities professionals) to discuss new research in a stimulating multidisciplinary setting. Papers from a variety of perspectives are encouraged and cover many aspects of polychromy in ancient sculpture and architecture.
The first meeting of the Polychromy Round Table, held at the Ny Carlsberg Glyptotek in Copenhagen in 2009, was made up of only 11 participants. By comparison, 2020's virtual meeting had more than 300 registrants.
Image ©

Ny Carlsberg Glyptotek
This website collects the experience of these productive and rich encounters at the Polychromy Round Table, in the form of past programmes, abstracts and published proceedings. It also aims to provide a focal point for this network and research community to share news on its investigations.
In the inclusive spirit of the Polychromy Round Table and its network, this site also aims to reach out to other researchers who may be considering the subject of ancient polychromy from the Greco-Roman world or relevant comparative studies from their own interdisciplinary viewpoints, geographical areas and time periods.
Latest News
In 2013, the Antiquities Conservation Department at the J. Paul Getty Museum launched an international collaboration known as APPEAR: Ancient Panel Painting, Examination, Analysis and Research. Focused on the study of the materials and manufacturing practices of ancient mummy portraits from Roman Egypt, the APPEAR project is a collaboration of forty-nine partner institutions and eleven advisory consultants from different archaeological and archaeometric backgrounds. Participation in the project encourages the exchange of comparative visual, historical and technical information through a database platform for sharing among scholars world-wide to develop research paths, and recognize trends and anomalies. The value of identifying and comparing the materials used to create these exceptionally well-preserved painted artifacts, specifically pigments and binding media, directly benefits the broader understanding of polychromy in the ancient world. Through conferences, publications and keeping the subject at the forefront of ancient material studies, the APPEAR project will remain a unique resource for years to come.
Conferences and Publication Information
In 2018 an international conference was organized at the Getty Villa providing an opportunity for participants to present their research; the papers were published in 2020 online and can be accessed here:https://www.getty.edu/publications/mummyportraits/
.
The APPEAR project will conclude in 2022 with a second meeting hosted by the Allard Pierson Museum in Amsterdam. For information on the project and updates, please visit:
https://www.getty.edu/museum/conservation/APPEAR/index.html
Added: 09/09/2021
For further information or to sign up for the mailing list, please email:
Or fill in your details below: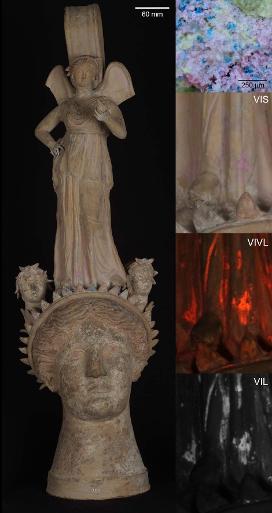 Image © Trustees of the British Mus

eum.
Website Team:
Mark B. Abbe - Associate Professor of Ancient Art, University of Georgia, Athens, Georgia.
Brigitte Bourgeois - Emeritus curator, Centre de recherche et de restauration des musées de France (C2RMF), Paris.
Hariclia Brecoulaki - Senior researcher, Institute of Historical Research, The National Hellenic Research Foundation (EIE), Athens.
Paolo Liverani - Professor for Ancient Topography, Dipartimento SAGAS (Storia, Archeologia, Geografia, Arte e Spettacolo), Università di Firenze, Florence.
Jan Stubbe Østergaard - Emeritus Research Curator, Ny Carlsberg Glyptotek, Copenhagen.
Marie Svoboda - Conservator, Antiquities Conservation, J. Paul Getty Museum, Los Angeles.
Giovanni Verri - Conservation scientist, Art Institute of Chicago, Chicago, Illinois.
Stephan Zink - Researcher, Department of Building Archaeology, German Archaeological Institute, Berlin.