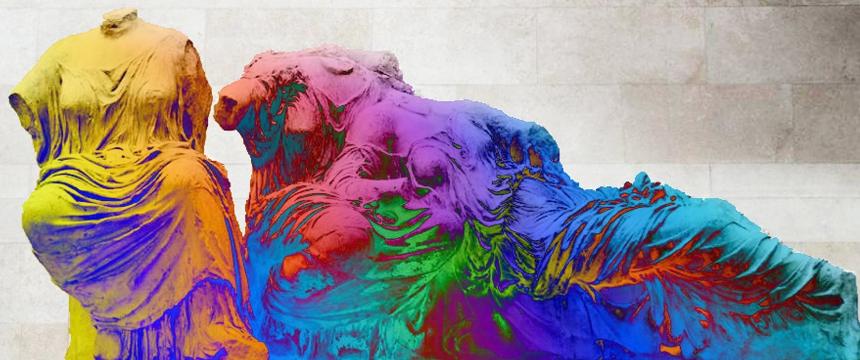 The International Round Table on Polychromy in Ancient Sculpture and Architecture or the "Polychromy Round Table" is a series of meetings dedicated to the study of the polychromy of ancient sculpture and architecture.
The subject of colour in the ancient world has long fascinated scholars. Within the realm of Classical art, historians stretching back to the late eighteenth century have periodically addressed the topic that sculpture and architectural elements from the Greco-Roman world, and beyond, were originally highly coloured.
Recently, interest in this field has once more been reinvigorated by the advent of new scientific techniques and methodologies, as well as by a community of diverse and interdisciplinary scholars, dedicated to the study of the polychromy of ancient sculpture and architecture.
Since 2009, this growing network of scholars has met on a series of occasions(see Past Meetings), first held annually and, since 2016, biennially.
The meetings have a strong tradition of providing an excellent opportunity for experts from a wide range of fields (archaeologists, architectural historians, scientists, conservators, museum and digital humanities professionals) to discuss new research in a stimulating multidisciplinary setting. Papers from a variety of perspectives are encouraged and cover many aspects of polychromy in ancient sculpture and architecture.
The first meeting of the Polychromy Round Table, held at the Ny Carlsberg Glyptotek in Copenhagen in 2009, was made up of only 11 participants. By comparison, 2020's virtual meeting had more than 300 registrants.
Image ©

Ny Carlsberg Glyptotek
This website collects the experience of these productive and rich encounters at the Polychromy Round Table, in the form of past programmes, abstracts and published proceedings. It also aims to provide a focal point for this network and research community to share news on its investigations.
In the inclusive spirit of the Polychromy Round Table and its network, this site also aims to reach out to other researchers who may be considering the subject of ancient polychromy from the Greco-Roman world or relevant comparative studies from their own interdisciplinary viewpoints, geographical areas and time periods.
Latest News
In November 2020, Dr Elisabetta Neri, a post-doctoral fellow at the atomic and nuclear spectroscopy laboratory at the University of Liège, was awarded a European MSCA Individual Fellowship for a period of two years, in order to study the significance of the polychromy of Roman imperial statues (1st-4th century AD), on an unprecedented scale.
The project, named "PolyCRomA", proposes the first systematic study of the use of colour in the statuary of an important Roman province, and will consider 20 statues from the collections of the Bardo museum in Tunisia. The variety of typologies, qualities and provenances (local, Asia Minor, Rome) of the statues in this corpus holds up a mirror to African society of the period. Moreover, as the archaeological context of discovery is well known, the meaning of the polychromy will be analysed in relation with the socio-political and religious purpose with which these artefacts were conceived. The preserved traces of colour will first be documented by coupling visual investigation (with the support of multispectral imaging and UV and VIL videomicroscope) and in-situ analyses (XRF and μRaman) in order to identify the techniques used to colour the statues. Selected micro-samples will undergo further quantitative analyses (PIXE, SEM/EDX, hyperspectral imaging, FT-IR). Finally, literary and epigraphic sources of Proconsular Africa mentioning the colour of statues will be inventoried and the use of colour on the statues will be compared with their counterparts in painting and mosaic.
To follow the project and learn more about the team and the institutions involved, see:
Added: 08/04/2021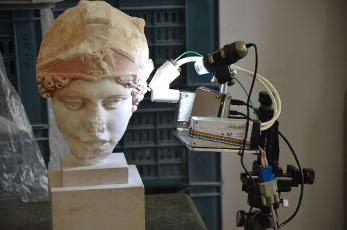 Image © PolyCRomA (University of Liège).
For further information or to sign up for the mailing list, please email:
Or fill in your details below: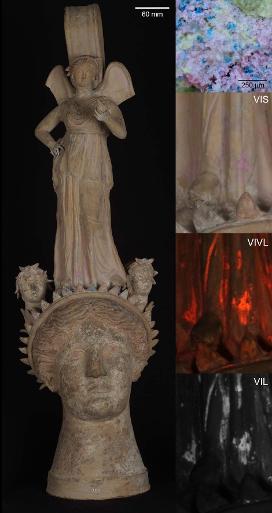 Image © Trustees of the British Mus

eum.
Webpage Team:
Mark B. Abbe - Associate Professor of Ancient Art, University of Georgia, Athens, Georgia.
Brigitte Bourgeois - Emeritus curator, Centre de recherche et de restauration des musées de France (C2RMF), Paris.
Hariclia Brecoulaki - Senior researcher, Institute of Historical Research, The National Hellenic Research Foundation (EIE), Athens.
Paolo Liverani - Professor for Ancient Topography, Dipartimento SAGAS (Storia, Archeologia, Geografia, Arte e Spettacolo), Università di Firenze, Florence.
Jan Stubbe Østergaard - Emeritus Research Curator, Ny Carlsberg Glyptotek, Copenhagen.
Giovanni Verri - Conservation scientist, Art Institute of Chicago, Chicago, Illinois.
Stephan Zink - Researcher, Department of Building Archaeology, German Archaeological Institute, Berlin.