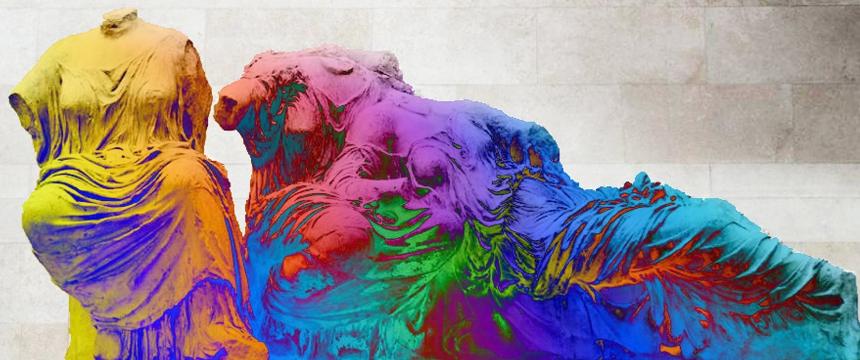 The International Round Table on Polychromy in Ancient Sculpture and Architecture or the "Polychromy Round Table" is a series of meetings dedicated to the study of the polychromy of ancient sculpture and architecture.
The subject of colour in the ancient world has long fascinated scholars. Within the realm of Classical art, historians stretching back to the late eighteenth century have periodically addressed the topic that sculpture and architectural elements from the Greco-Roman world, and beyond, were originally highly coloured.
Recently, interest in this field has once more been reinvigorated by the advent of new scientific techniques and methodologies, as well as by a community of diverse and interdisciplinary scholars, dedicated to the study of the polychromy of ancient sculpture and architecture.
Since 2009, this growing network of scholars has met on a series of occasions(see Past Meetings), first held annually and, since 2016, biennially.
The meetings have a strong tradition of providing an excellent opportunity for experts from a wide range of fields (archaeologists, architectural historians, scientists, conservators, museum and digital humanities professionals) to discuss new research in a stimulating multidisciplinary setting. Papers from a variety of perspectives are encouraged and cover many aspects of polychromy in ancient sculpture and architecture.
The first meeting of the Polychromy Round Table, held at the Ny Carlsberg Glyptotek in Copenhagen in 2009, was made up of only 11 participants. By comparison, 2020's virtual meeting had more than 300 registrants.
Image ©

Ny Carlsberg Glyptotek
This website collects the experience of these productive and rich encounters at the Polychromy Round Table, in the form of past programmes, abstracts and published proceedings. It also aims to provide a focal point for this network and research community to share news on its investigations.
In the inclusive spirit of the Polychromy Round Table and its network, this site also aims to reach out to other researchers who may be considering the subject of ancient polychromy from the Greco-Roman world or relevant comparative studies from their own interdisciplinary viewpoints, geographical areas and time periods.
A workshop on the subject, "Colour matters. Polychromy of Ancient Greek and Roman Sculpture as Research Subject in Archaeology and Philology" was held on Friday 24th September 2021, to coincide with the closing of the exhibition
'Bunte Götter – the Golden Edition' at the Liebieghaus. See the workshop programme here.
Jan Stubbe Østergaard has kindly put together some notes on his impressions of the meeting. Read them here.
Added: 14/10/2021
Paolo Liverani (speaking), in the background; Vinzenz Brinkmann and Clarissa Blume-Jung (both standing) and Ulrike Koch-Brinkmann (sitting) . In the foreground; Oliver Primavesi (left) and Christiane Vorster (right).
Image ©
Jan Stubbe Østergaard
Online Symposium at the Faculty of Classics, Oxford University
Thursday 16th and Friday 17th December, 2021.
"The Tetrarchs, Constantine, and Imperial Art"
Organised by Bert Smith & Tuna Şare Aǧtürk
See the workshop programme

here.
For further information and to register contact:

Tuna Şare Aǧtürk