Project News! Conservators at the Kelsey Museum of Archaeology launch project website, Investigating Color in Roman Egypt
Carrie Roberts and Suzanne Davis, conservators at the Kelsey Museum of Archaeology at the University of Michigan, have recently launched a website that features some of the outcomes of their NEH-funded technical survey of pigments and dyes in the Museum's Roman Egyptian collection. The site shares their project's research methods (available for download) as well as a series of case studies from the 150+ objects that were examined, imaged, and analyzed as part of the study. Roberts and Davis hope that by making these research tools and findings widely available, researchers working at smaller institutions will feel inspired to pursue technical color studies in their own collections. Plans are underway to publish the results of the technical survey on scholarly platforms.
Added: 08/06/2023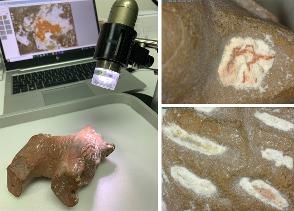 Digital microscopy of KM 6909, terracotta dog figurine, showing traces of yellow and pink paint over a white ground.
Image © The Kelsey Museum of Archaeology.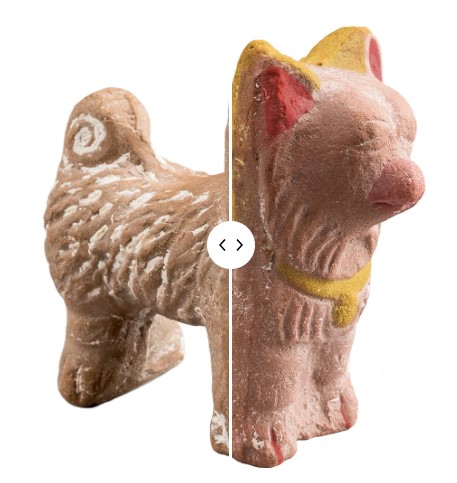 Digital color reconstruction of KM 6909 (artifact case study featured on website).
Image © The Kelsey Museum of Archaeology.