Technical colour survey at the Kelsey Museum of Archaeology
Conservators Carrie Roberts and Suzanne Davis are in the midst of a two-year grant-funded project to characterize pigments and dyes on Roman Egyptian artifacts at the Kelsey Museum at the University of Michigan. This NEH-funded project will incorporate multiband imaging and XRF analysis of sculpture, ceramics, textiles, and wall painting fragments from Karanis and Terenouthis, two Roman Egyptian sites excavated by University of Michigan in the 1920s and 30s.
The goals of this project are twofold: to make initial pigment and dye characterizations on up to 200 artifacts with known provenance, gathering data that can be immediately linked to known archaeological sites; and to develop a set of online research tools that can be easily replicated in other small museums like ours. By looking at our collection with tools that are familiar to archaeologists, we hope to explore trends in Roman Egyptian color use while also making technical color research more accessible. We've made some interesting discoveries so far, including painted funerary inscriptions only visible under UV; evidence of pigment mixtures and double-dying; and an unexpected green colorant on a well-documented ancient artifact. We look forward to sharing our full results—and accompanying research toolkit—on the Kelsey Museum's website in early 2023.
Added: 28/09/2021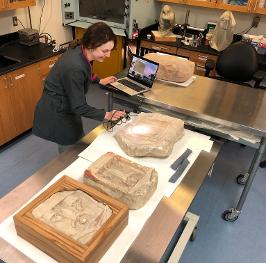 KM 3768, painted terracotta figurine from Karanis, Egypt, 1st – 5th centuries CE. Image © Kelsey Museum.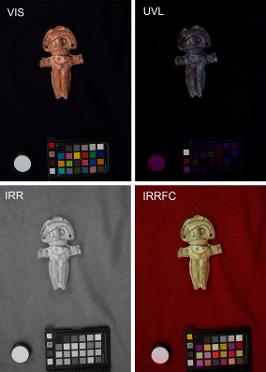 Examining a group of polychrome funerary stelae from Terenouthis, Egypt, late 2nd – early 4th centuries CE. Image © Kelsey Museum.