Update on the MSCA funded project, "Colorful Indications of (Ex)Change" - Noricum in the Roman Imperial period and Late Antiquity
In September 2020, Dr. Alexandra S. Rodler, a post-doctoral fellow at the Austrian Archaeological Institute of the Austrian Academy of Sciences, was awarded a European Commission's Marie Sklodowska-Curie Fellowship for a period of two years, to investigate the provenance of pigments used for Roman wall paintings, as well as pigment production and organization of production. The project aims to test whether local production was relevant or importation can be linked to material quality, whether specific source regions and trade contacts can be identified and if supply and technology changed over time, between sites and across regions.
With a focus on wall paintings, specifically cinnabar and Egyptian blue pigments, including their archaeological and historical context as well as mineralogical and geochemical information, this project tests the potential of ancient pigments as powerful indicators of trade, cultural and technological exchange during Roman Imperial period and Late Antiquity in Noricum after it became part of the Roman Empire. This will be compared to contemporary samples from central Italian sites.
These wall painting fragments and raw pigments are first characterized by in-situ pXRF analysis at local museum collections to identify samples for further mineralogical and geochemical analysis at the University of Vienna and collaborating institutions. Parallel to the pigment analysis, potential raw materials for pigment production are also analysed and will be integrated into a provenance map.
This project has received funding from the European Union's Horizon 2020 research and innovation programme under the Marie Skłodowska-Curie grant agreement No 845075.
Added: 03/06/2021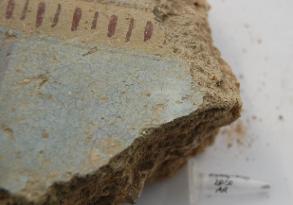 Wall painting fragment with Egyptian blue.
Image © A.S. Rodler (Austrian Academy of Sciences).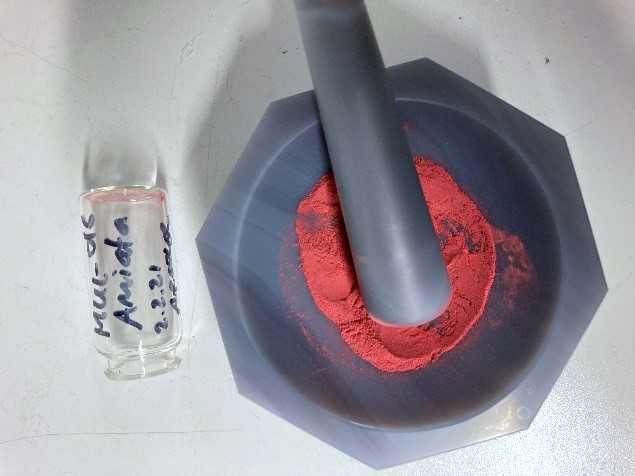 Cinnabar ore from Monte Amiata, Italy.
Image © A.S. Rodler (Austrian Academy of Sciences).