Honouring Susanna Bracci
It is with great sadness that we announce the passing on April 26 of our beloved friend and colleague Susanna Bracci who served as Senior Researcher at the National research Council in Florence for over thirty years.
Susanna was a prominent Conservation Scientist, a highly respected figure in the Heritage Science world at national and International level.
She was an active member of the Polychromy Round Table family, sharing with many of us her research in the field of ancient polychromy, focusing on non-invasive approaches for the study of painted surfaces.
Her close working relationships with scientists, curators, conservators, scholars and students, and her incredible artistic sensitivity, made her an excellent colleague. Everyone who worked with Susanna, including the many students, would agree that Susanna's remarkable expertise was equaled by her pleasant and positive personality, contagious to everyone she met.
In recent years, in addition to her professional and human skills, we have also admired the strong courage and determination in facing life challenges due to her personal battle with illness.
We will truly miss Susanna, her formidable intelligence and tireless dedication.
Added: 13/05/2021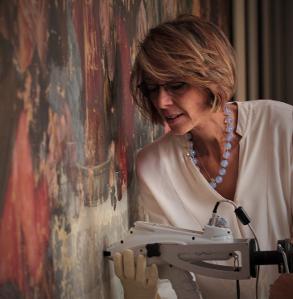 Susanna during an analytical campaign on Last Supper by Plautilla Nelli, 2016. Image courtesy of Linda Falcone, AWA Advancing Women Artists.