Remembering Ian Jenkins
The news of the death of Ian Jenkins (Curator in the Department of Greece and Rome at the British Museum), who passed away on 28th November 2020, was received by all with great sadness.
Ian will be remembered by so many as a dear colleague, mentor and friend who gave his whole working life to the British Museum in a distinguished career which spanned more than 42 years. He was passionate about the study of polychromy in ancient Greek sculpture and architecture.
The following obituaries for Ian have recently been published:
The Times obituary describes Ian as 'Curator at the British Museum and revered expert on ancient Greece who staunchly opposed calls to return the Elgin Marbles'. Full obituary here.
The Art Newspaper's is written by Susan Walker who describes Ian as 'a scholar and British Museum curator who enriched all who met him with his passion for classical Greece'. https://www.theartnewspaper.com/feature/ian-jenkins-british-museum-obituary
ARTnews also published an obituary for Ian writing, 'Jenkins joined the British Museum in 1978 and wound up shaping how ancient Greek art was presented there. As a classics scholar, he was concerned with how the presentation of such architectural works within the museum's galleries informed the viewer's perspective...'. https://www.artnews.com/art-news/news/ian-jenkins-british-museum-curator-dead-1234579601/
Ian Dennis Jenkins, classical scholar and archaeologist, born 18 February 1953; died 28 November 2020.
Added: 16/12/2020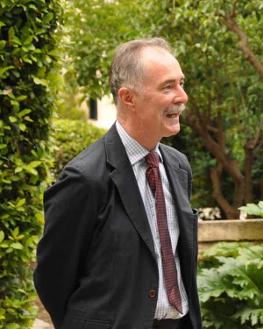 Ian Jenkins in the garden at the British School at Athens.
Photograph: British School at Athens.